Originally sent out as a newsletter – if you would like to get such posts ahead of everyone else, please subscribe to my newsletter on the bottom of the page.
I'm happy to present you (pun intended) a curated list of gift ideas.
I spent time searching for small, local brands and people, who do amazing things, but can easily be forgotten when we think of buying gifts. I want to give a big shout out to them – truly making a difference with their talent and dedication. If I would be to pick one main purpose of Berlin Boudoir community is to elevate each other – and that's what I hope to achieve with this newsletter and this gift guide.
I decided to create 6 gift "personalities": The Bold & Beautiful, The Explorer, The Art Lover, The Fun Loving, The Mindful Spirit, The Curious – hoping that you will find there gifts for anyone. At the end I attach a list of gifts that keep on giving – charity organizations and ideas that need your support. In the end that's all what this whole Holiday season is about: taking care, spreading warmth and empowering each other.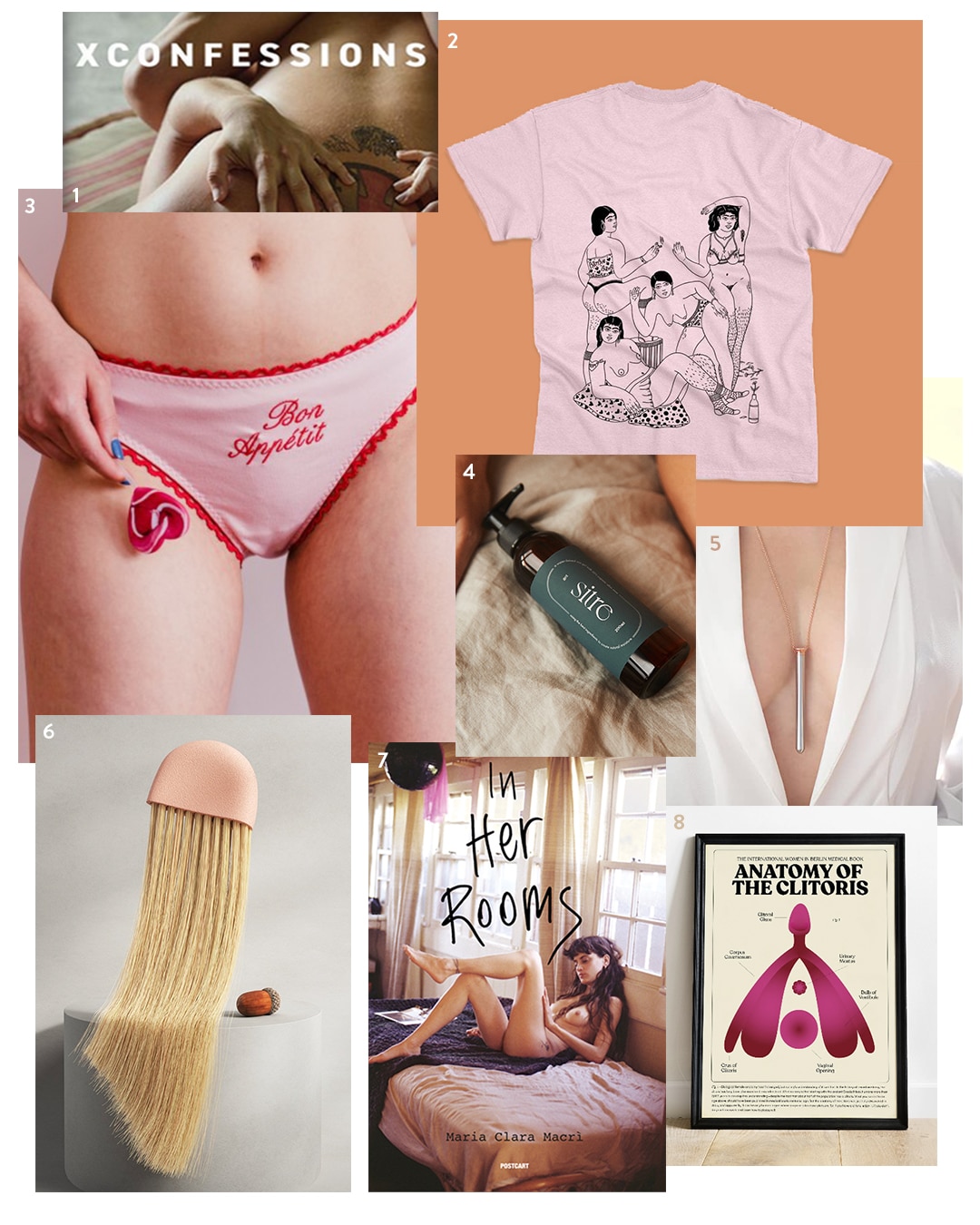 The Bold & Beautiful is open, happy to explore their sensuality and sexuality, likes to be a bit provocative and enjoys beautiful objects. Even better if they bring pleasure!
1. XConfessions – Erika Lust's powerhouse bringing porn to a new level: stories are crowdsourced, videography is stunning (forget the ultra HD badly lit shots) and the diversity you'll rarely see in mainstream porn is a given. Subscription based.
2. Badass prints with Lita Guijarro – give these hairy ladies some love they deserve!
3. Bon Appetit panties by a small Polish brand Girls Watch Porn started by two female friends, going against stereotypes and heteronormative understanding of sex and pleasure
4. Sitre – vegan, natural, edible and incredibly velvety feeling sex gel – to use in any situation
5. Vesper – who said that you're vibrator can't double down as a necklace? Designed by insanely talented Ti Chang is a strong argument for women taking pleasure in their own hands. And necks.
6. Brush from Sexual Healing – small Dutch brand on a mission to make sex pleasurable for everyone, also people having to overcome their traumas
7. In Her Rooms by photographer Maria Clara Macri – "In an attempt to give women back their nakedness by untying the body from its sexual objectification, the author has travelled the world immortalizing girls of different origins and social backgrounds, naked in their bedrooms." Bonus tip: You can get it in Do you read me? bookstore in Berlin.
8. Anatomy of the Clitoris poster designed by Bruna Silva, founder of International Women in Berlin.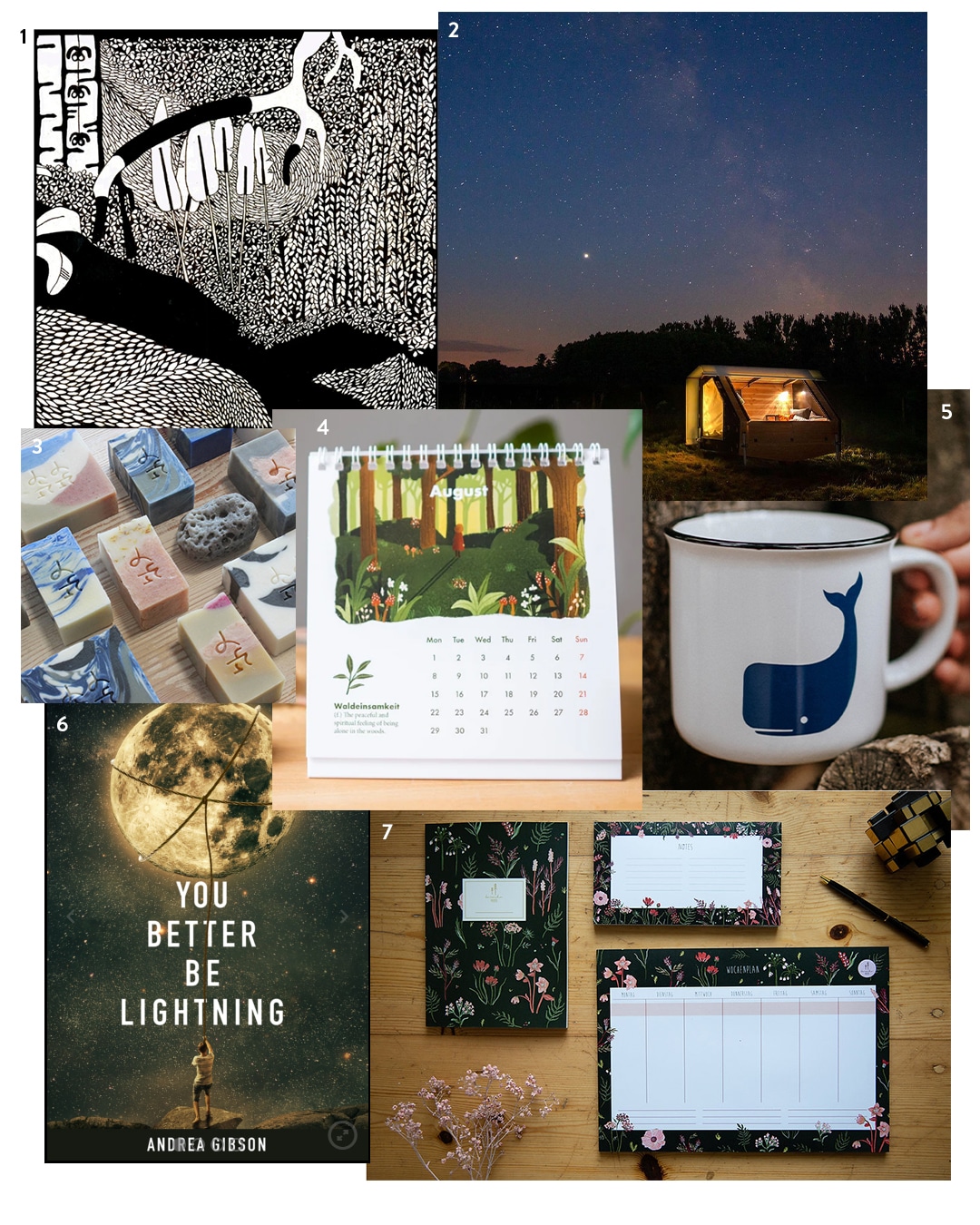 The Explorer feels best when surrounded by nature, loves to travel and discover the world. They excel at being a tourist in their own neighborhood, finding hidden gems and unique beauty in the ordinary.
1. The Jungle – set of two prints by the local Berlin artist Ieva But
2. Staycation Collection – Emily, the founder of Staycation Collection, will make sure your next vacation is going to be unforgettable with her curated collection of wonderful stays and personal approach. Subscription based.
3. Soap Soop – Soop(숲) means 'the forest' in Korean, and is the main source of inspiration for this 100% natural, vegan artisan soap made locally in Berlin.
4. Wort & Schatz 2022 desk calendar – beautiful collaboration between illustrator Laura Martin and creative all-rounder Carla Bonomini, this interactive calendar teaches you 12 untranslatable German words throughout the year.
5. Whale Mug from Two Thirds – a cute porcelain mug from one of my favorite sustainable brands.
6. You Better Be Lightning by Andrea Gibson – "a queer, political, and feminist collection guided by self-reflection. The poems range from close examination of the deeply personal to the vastness of the world, exploring the expansiveness of the human experience from love to illness, from space to climate change, and so much more in between."
7. All-in Planer-Set Wild Flowers by Karoline Kohle – illustrator, activist and propagator of slow living.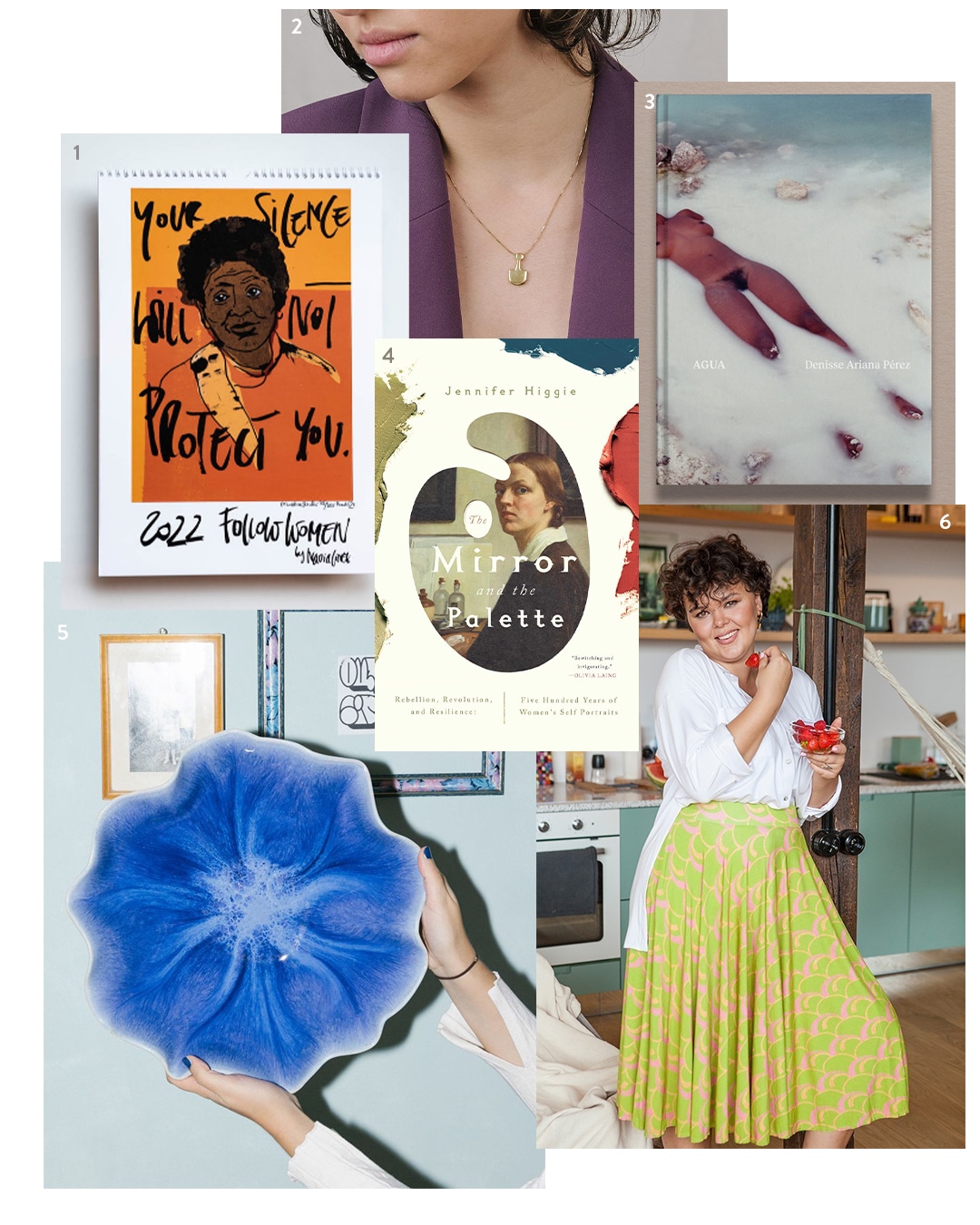 The Art Lover loves, well, art, as well as anything beautiful and meaningful at the same time. Sophisticated color combinations, patterns, objects with history will make them sigh in awe.
1. Follow Women wall calendar 2022 by Nadia Linek – 12 colorful portraits and quotes by inspiring women, beautifully illustrated in this limited edition calendar by Polish illustrator living in Berlin
2. Floating Fertility Figurine Pendant – gold-plated silver pendant inspired by a marble Fertility Figure discovered in modern-day Anatalia, Turkey dating back to 5000-4000 B.C. <While some think that these statues represent fertility, others believed that they functioned as "as goddess figures, religious or shamanistic objects, or symbols of a matriarchal social organization."> Created by Sister – a platform for curated products made by Cyprus-based craftsmen, supporting old artisan trades.
3. Agua by Denisse Ariana Perez – the first photobook from Caribbean-born, Barcelona-based photographer, simply a work of art.
4. The Mirror and the Palette by Jennifer Higgie – hushed away to make space for art history led by men, now female artists are brought back to life by Jennifer Higgie with their "tales of rebellion, adventure, revolution, travel and tragedy enacted by women who turned their back on convention and lived lives of great resilience, creativity and bravery."
5. Shell serving bowl by Motel a Miio – hand-sculpted limited edition bowl. One of the objects you don't really need, but want for their beauty.
6. Prima Ballerina Bubbles on Green Print – I love the Polish brand Risk Made in Warsaw as they're not only sustainable, but think of different body types when designing their cuts. I own this skirt and must admit it stays true to the promise – comfy like your favorite sweat, but looks fancy af.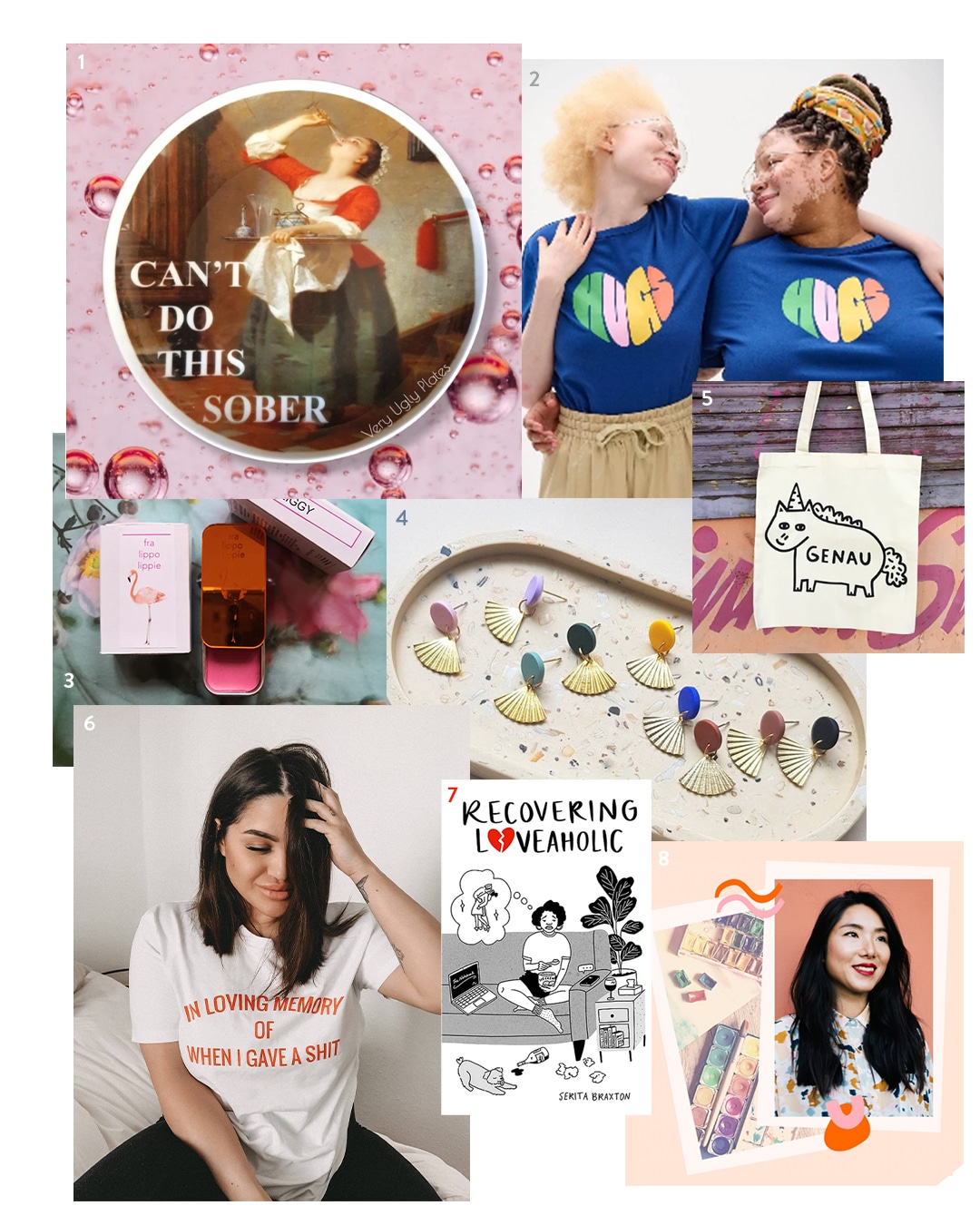 The Fun Loving is your go-to person when you want to laugh, see the world in bright colors and forget the long cold Berlin winter. They'll always have ways to cheer you up, as they simply refuse to have any rain on their parade.
1. Can't Do This Sober from Very Ugly Plates – a brand started by Polish artist Kamilek Majcher mixing delicious sarcasm and irony with the straight-up kitch of painted tableware.
2. L.E. Maya Tee @elizabetholwen & Yak – Lucy & Yak is a brand that makes colorful non-gendered clothes and features the most wonderful people wearing them in their look books.
3. Fra Lippo Lippie – if you want some color, here it is! In the form of vegan and super resistant lipstick made by Berlin beauty Monique.
4. Handmade polymer clay earrings by Bloom and Boom Studio – local Berlin business, handmade with love by Sandra.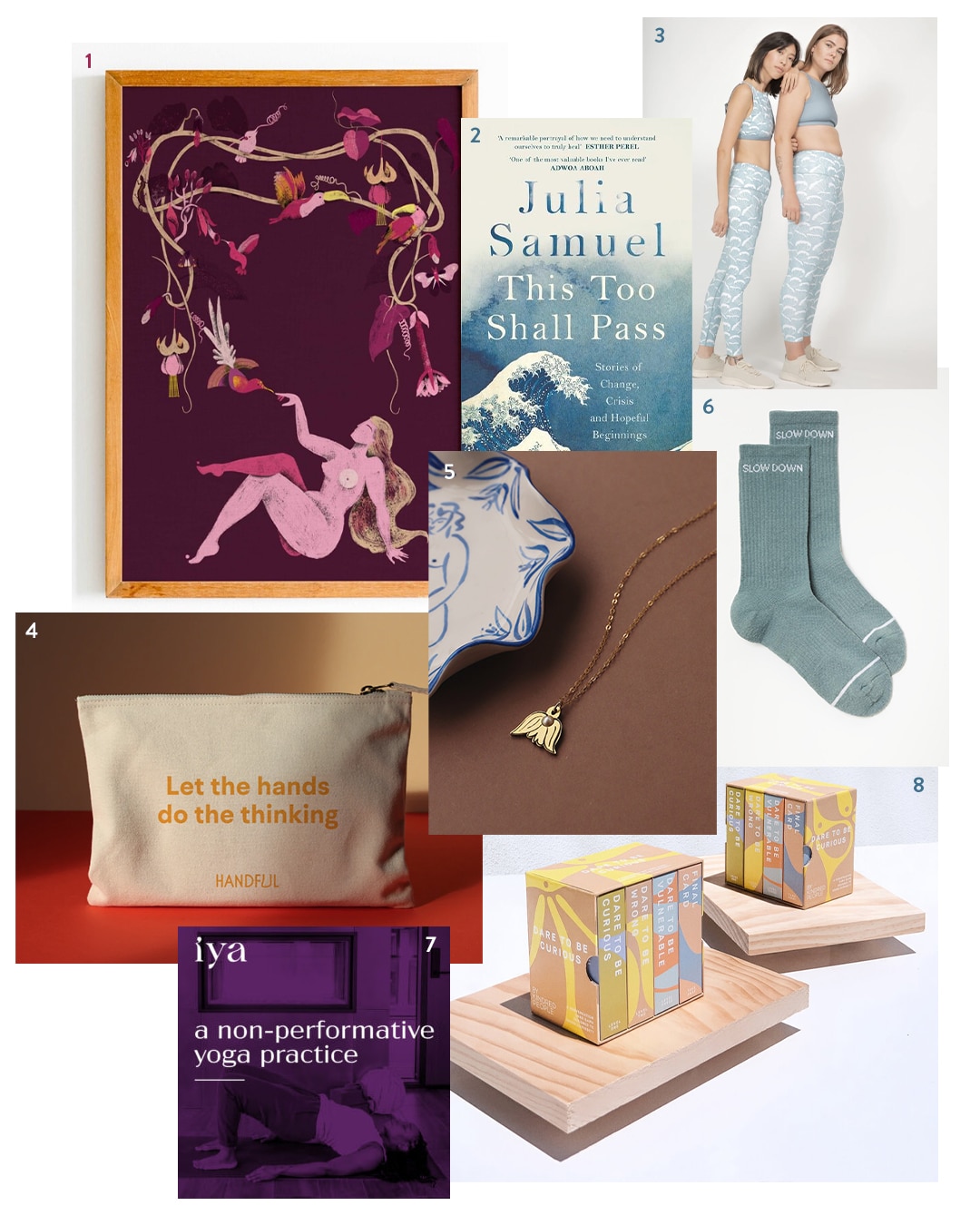 The Mindful Spirit is always looking for the deeper connections between things and people. Prefers looking for questions rather than answers, to better understand ourselves and the world we live in. Believes that slow, mindful approach in life can bring balance and freedom.
1. Garden of Eden by Iza Buleczka – print of a dreamy illustration, which its author describes: "I created Eden for escape. I created it out of a longing for what is magical, afar. For what does not pass, what feels like roots of my heart. This place is unhurried, beautiful and free. A place where I don't get to decide, where nature has its plan for everything and I completely surrender to it. And I invite you there – so that you can sometimes run into the garden and watch mushroom-flowers, lizards and toucans. You will feel good here, pleasure is the highest good here."
2. This Too Shall Pass by Julia Samuel – a wonderful book about approaching any change, transition in life: how to welcome it, and cope with it and find the calm while in the middle of it.
3. Ocean Wave Leggings by Boochen – comfy and sustainable, made of pre- and post-consumer waste like fishing nets and plastic bottles
4. Handful Clay Meditation Kit – Anke, founder of Handful writes: "With this kit you are invited to feel the potential of clay as a material to nurture your own body. This kit celebrates the process, not a physical outcome. The reward can be found within you, and the insights you gained. It will make your soul grow."
5. Bellflower Necklace by Wolf & Moon – delicate pendant made using engraved mirror brass and wood in the small London studio
6. Slow Down Socks by Girlfriend Collective – made from recycled water bottles
7. Non-performative yoga practice by Abiola Akanni – set of 8 videos to practice at home. Non-performative yoga is about the process, not the way you look or how well you get into a position. Abiola writes: "As black folx we've been conditioned to strive to survive, and perform to show our worth. So much so that rest feels unsettling. This Yoga Journey creates space for us to find comfort in being, instead of validation in doing. By affirming the body and releasing our inner critic we begin to cultivate a state of calm in non-performance." One time payment for lifetime access.
8. Dare to Be Curious card game by Kindred People – card game which helps you get into deeper, more meaningful conversations with people. And it's so wonderfully designed!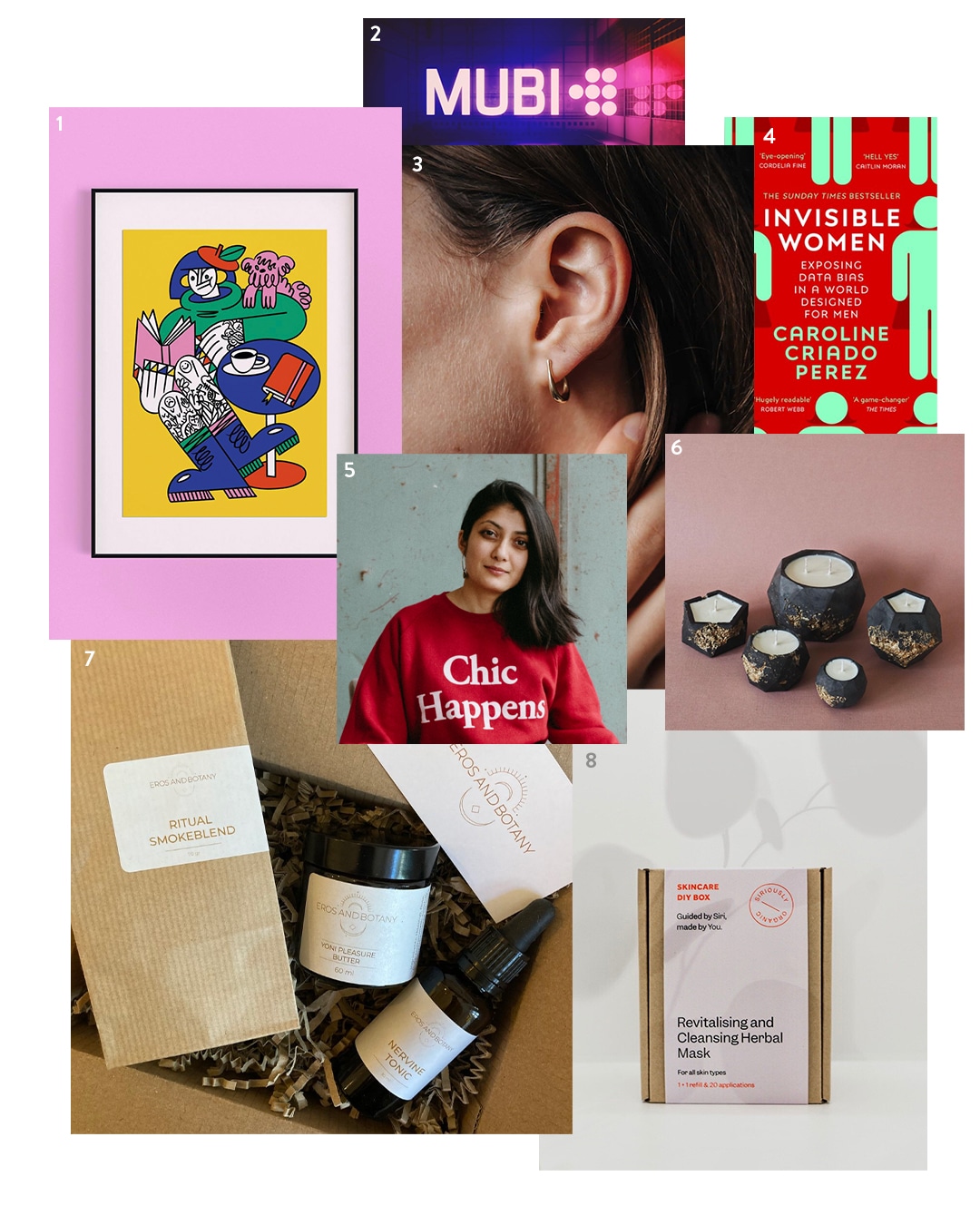 The Curious is always hungry for more: broadening their horizons, seeing and listening more, understanding different viewpoints and learning new skills. This is the person that reads anything – from the list of ingredients on their facial cream to latest issue of their favorite magazine. If they buy something, it's always a very thought through decision.
1. Soft and Hard print by Carmen Reina – "I am covered in tattoos and
sleep with my favorite plush" describes this print the author
2. Mubi – what I call Netflix for the curious: independent movies and shorts which you won't see in the mainstream platforms. Subscription based.
3. Stud earring Daalee – made by the Mahwani family in North India in a small workshop collaborating with Jyoti Fair Works. Buying jewelry there you know you support the next generation of jewelry makers in their own region.
4. Invisible Women by Caroline Criado Perez – a must-read to understand the world we live in. Even the order in which our streets are cleaned from snow affects women more than men, as a Swedish city learned. There are no gender-less problems unfortunately. The sooner we understand it, the better.
6. Candle with Proust's Madeleine inspired scent – "We created Proust's Madeleine as a fragrance to underline the ability to somehow simply bend time and break the dichotomy between past and present through smell. Proust's Madeleine smells likes a warm vanilla paired with earl grey tea and refreshed with a splash of bergamot. Light, airy, with a hint of decadence." Bravo Lit Lab Berlin!
7. Sensuality Gift Set from Eros and Botany – Yoni Pleasure Butter, Nervine Tonic and Ritual Smokeblend – all to bring the sensual atmosphere and help you release the tension.
8. DIY Revitalising and Cleansing Herbal Mask by Siriously Organic – suitable for all skin types, this set will help you create your own organic mask.
Gifts that keep on giving
donate menstrual hygiene products in one of the collection boxes around Berlin – you can find the list here

help refugees stuck in the forest between Polish and Belarusian border by supporting Ocalenie Foundation
Join My Newsletter
Once in a while I would like to share with you some inspirational, feminist and body-positive content: book and film recommendations, upcoming photo shoots and podcast episodes, things that make me smile. You will also be the first to know about any giveaways and model calls. Let's stay in touch!