The #stayathome coronavirus lockdown created a situation, where clothes we normally don't pay attention to became our main outfits for the day. Sweatpants and oversized sweaters win over a pair of jeans and a blouse we used to wear to work everyday, as they are just soooo much more comfortable! Plus, right now, we can finally dress for ourselves, not for anyone else. I feel that it's a good occasion to share my favorite places to buy great lingerie and loungewear – things you can wear at home everyday and feel sexy and comfortable at the same time.
I'm a big lingerie fan and strongly believe that wearing underwear you specifically chose because of the way it makes you feel, can do magic to your self-esteem.
Why? 1) it's hidden under your clothes, so you wear it just for yourself, not to prove anything to anyone else 2) even though it's hidden, you remember about it and it's a reminder that your body is worthy of something pretty that doesn't play any other role than to be pleasurable to you.
Please, do me a favor, and next time you buy new underwear pick something because you like the way you look in it (or since you can't try it on now, how you imagine yourself in it). Give yourself this gift of attention, pay tribute to your own sensuality and sexuality. I've heard from women coming to my boudoir photo shoots that a visit to a lingerie store can already do so much to make you feel good in your body – it can remind you that your body is not just a mere vehicle for all the thoughts and activities, but a temple on its own – cherish it.
Disclaimer: I'm only sharing here brands that I personally truly like, I'm not getting paid for any of the links.
1. BLOOM & BOUDOIR – PETITE FIT FOR SMALL BREASTED LADIES
This UK brand specializes in bralettes for women with small breasts. You will find a diverse selection of lace and crochet underwear: bras and panties. Plus: they support charity! £1 from every bralette sold goes to Look Good Feel Better—a charity that helps women fight the side effects of cancer treatment.
Prices: £25-30 for a set of lace panties and bra, £15-20 for a bra
2. ANEKDOT BOUTIQUE – UPCYCLED LINGERIE MADE IN BERLIN
I worked with Sofie (Anekdot founder) personally on a lookbook for her collection last year, so I can give my word that all you read about it is true. She started the company on her own and still travels every year to look for the best luxurious lace leftovers in small shops in Florence, which otherwise would have been thrown away. She sews everything herself with a help of a few other women – all done in Berlin, sustainable and eco-friendly. They also have a wide selection of swimwear.
Prices: 69-79€ for a bralette, 39-45€ for panties, 115-120€ for a set.
3. IVORY ROSE – FULLER BUST LINGERIE DD-G CUP
Another brand from UK, this time for women with fuller bust. They provide bras, knickers (ah, this British name for panties!), bodysuits and nightwear. What's more – they claim to use only #realwomen for their photos and no Photoshop – based on their Instagram account, I believe them!
Prices: £12-20 for a bra, £5-9 for knickers.
4. MONOLOGY – LACE BRALETTES THAT ARE WORKS OF ART
"Monology originated as a family workshop that makes high quality lingeries for friends and families." -we read on their website. Now you can choose from variety of bralettes, briefs and nightdresses delivered worldwide from London. I love how they managed to turn a simple bralette into a work of art! Have a look at their Laverne model with two strings forming a delicate yet seductive neckline – something much appreciated by small-breasted women like me, who have no cleavage to show off.
Prices: £46-60 for bra/top, £28-30 for briefs
5. SAVARA INTIMATES – SUSTAINABLE MIX & MATCH LINGERIE FROM THE NETHERLANDS
It was created by Dutch woman, Eva van Schijndel, after she graduated from the University and despite having "the perfect job", she found herself wanting to do something meaningful and beautiful. She recalls her morning thought process: "Wake up, shower, walk to my underwear drawer and the challenge starts. Which bra will fit my cloths? Which one has no stabbing wires yet? Which one fit me this moment of the month and is also charming so I don't have to cover it up for my boyfriend? What kind of material is this, which makes me all sweaty after biking to the office? Who actually made this?". One day she took a sewing machine and started putting her ideas into reality – and that's how Savanna Intimates started. "Fair wages, good working conditions and sustainable materials are minimal requirements for me." – yes to that! I love that she enables to pimp-up the basic bra models by buying a lacy back addition (see above).
Prices: Slip from 25€, bralette from 55€
6. LE BAISER LINGERIE – DESIGN YOUR DREAM BRA
The Polish patriot inside me is very proud because Le Baiser was started by two Polish girls. The twins Iza Karolak and Kasia Karolak-Kugaudo have sewing in their genes – both grandmothers were seamstresses. They focus on good quality materials and comfort to create sensual, wire-free lingerie. I love their model with butterfly arms (photo above). Recently they also added an option in their store to create the bra of your dreams – you can simply contact them via their website and they will do whatever they can to make your dream come true! 😍
Prices: Bra from 52€
7. CORPUS – ORGANIC BAMBOO NO-FEEL UNDERWEAR WITH BODY POSITIVE APPROACH
Another brand started by sisters, this time focusing on no-feel underwear and loungewear made of organic bamboo. If you're looking for something that you can walk all day and even do your yoga practice, have a look at their website. They get some extra points from me for body positive campaign including women of different shapes and races 🙌 Handmade in Brno, Czech Republic.
Prices: Panties start at 400 Kč (around 15€), bras start at 950 Kč (around 35€)
8. MOONS AND JUNES – COLORFUL BODY POSITIVE BRAND FOR EVERY SIZE
Danish brand that recently started their Unapologetic campaign which I love with all my heart: "Many of us struggle to express ourselves unapologetically, especially when we're dressing down, being sexual and when the two intersect. We encourage you to express your love & romantic life unapologetically whatever it looks like in this present moment." The photos are bold, steamy and yes, unapologetic – showing female bodies the way they really are. Furthermore, you can explore on their website the #bitsandboobs gallery – a space where women can share unretouched photos of their chest area (join the project if you want!). Did I mention that they also produce colorful, minimal and wire-free underwear that fits all sizes? Well, they do that as well. Every model has photos of women wearing each possible size – so that you really can imagine how it would look on you.
Prices: Panties 39€, Bra 61€
9. THE SLOW LABEL – FAIR ECO-FRIENDLY BASICS FOR EVERYDAY
If you're looking for basic clothes that will last long and you would want to be sure they were made in a sustainable way – The Slow Label is there for you. Their products are ethically made in Bangladesh, and hand printed in Germany. They're very transparent about their sources – you can easily read the details on the website and learn how each part of the production process is being handled. What do they offer? Everyday lounge and active wear in multiple colors – minimal, made of organic cotton or recycled polyester.
Prices: Bra 38€, Leggins 68€, Sweatshirt 89€ (but they're on discount now for 75€)
10. BOOB DESIGN – PERFECT UNDERWEAR AND LOUNGEWEAR FOR MOMS
"The idea of Boob was born on a cold and windy autumn day in 1999, when I watched my sister breastfeed her newborn son with the north wind sweeping around her bare waist. There and then, I realised that mothers, like all super heroes, deserve the right gear." – writes Mia Seipel, the founder of Boob Design. I couldn't agree more! They have patented nursing collection for mothers in all stages, made of sustainable materials 100% tested for harmful chemicals. Plus: you can find articles to help you determine which underwear is most suitable for your stage.
Prices: Nursing bra starting from 49,95€, Soft Support Briefs 29,95€, Nursing Tank Tops from 44,95€
11. ESSENTIALS FOR ZULA – COMFORTABLE ESSENTIALS WITH A TWIST
Family-run label – Austria-Thai born designer Delie teamed with her father to create essential pieces that would fit into any women's closet. Their fabrics are locally sourced, woven and dyed in Thailand, produced by a small team of fair paid seamstresses and tailors. You can choose from wide range of bralettes, bodysuits, active and swimwear. To me their trade mark is the multi-strap look – what they can do with straps is really amazing!
Prices: Bralettes starting at 34€, Leggins starting at 49€
12. MORROW AND MINT – NURSING BRAS MADE SEXY
Although Morrow and Mint has a lot of lovely designs, I want to focus on their nursing bras – I've never seen bras that would make breast feeding so easy, while still looking like a sexy piece of lingerie. Bravo for that! They even have a model fitted for breast pumps!
Prices: Nursing bras starting at 38,79€, bras from 36€, 7-day panties pack 58,19€ (now on discount for 32,33€).
13. THE NUDE LABEL – SIMPLE YET CREATIVE ORGANIC BASICS
All pieces are locally made in Valencia, Spain from organic cotton free of chemicals or recycled polyamid (swimwear). "As we love mama earth, our goal is to make the least possible impact on the planet. We do also love the people living on it and that's why ethics are so important to us. Taking the best of both places, our pieces are made to be as natural as possible and to be worn like a second skin by all kind of people, not just for perfect models." – yes to that! I love how simple yet creative they are with the designs. And their body positive photo shoots are truly stunning!
Prices: Panties starting from 15€, bras from 35€
14. COCO MALOU – BUY LINGERIE AND PLANT A TREE
Fair lingerie brand from Germany, producing in Portugal from sustainable materials. They offer delicate lacy lingerie and nightwear covering all sizes. Plus: they plant a tree after every set is sold, in cooperation with WeForest.
Prices: They're currently having a break in their online store, but coming back on 3rd of May 2020.
15. UNDERCLUB – UNDERWEAR SUBSCRIPTION SERVICE
They decided to approach the topic of buying underwear differently: why use precious time to look endlessly for pieces online, when you can have designer underwear delivered monthly at your door. First, you take an online quiz to determine what you like most, then every month Underclub stylists pick items based on your style and fit preferences. You leave reviews each time, so that the matching can get even more suited with time to your needs. Very tempting for a lingerie addict like me…
Prices: start at $12,95 per month
16. DORA LARSEN – COLOR-BLOCKING LINGERIE FOR BOLD LOOK
"Dora Larsen lingerie is devoted to colour. Each item in each collection features subtly created colours that are unique to us: shell pink, lilac grey, snorkel blue, saffron, moss. Colour can be soothing, amusing, rebellious or uplifting. The magic lies in how the colours are combined." – we read on their website. And it is true – surprising color combinations turn traditional lacy lingerie into festive subversive garments. There's statement jewelry, now it's time for statement underwear!
Prices: Briefs starting from £22, bras starting from £42
17. ERLICH TEXTIL – ECO FRIENDLY BASICS FROM TRULY TRANSPARENT BRAND
Their main motto is "Do it with love" – love for details, quality, and everyone involved in the creation of the product. Erlich provides on their website extensive information about the clothes: what eco friendly materials they use, explaining the price, introducing the team and giving advice on how to take care of their clothing (all in German though). All your family can wear Erlich from head to toe, but I wanted to focus on their women's underwear and loungewear: simple and pretty classics in basic colors. All made of organic cotton, modal or linen.
Prices: Bras from 22,95€, Panties from 15,95€
18. BOOCHEN – LEGGINGS FROM SEA WASTE THAT ARE MADE TO LAST
Boochen is mainly focused on swimwear, but I wanted to feature them here because of their leggings: wonderful all over prints, made from materials reclaimed from sea waste in a small fair studio in Hongkong. Their products use Lycra® Extra Life –  fibers that protect you from the UV light (SPF 50) and, at the same time extend the life span of the product 5 times!
Prices: Leggings for 89€
19. HOUSE OF MARLOW – UTTERLY SENSUAL FRENCH LINGERIE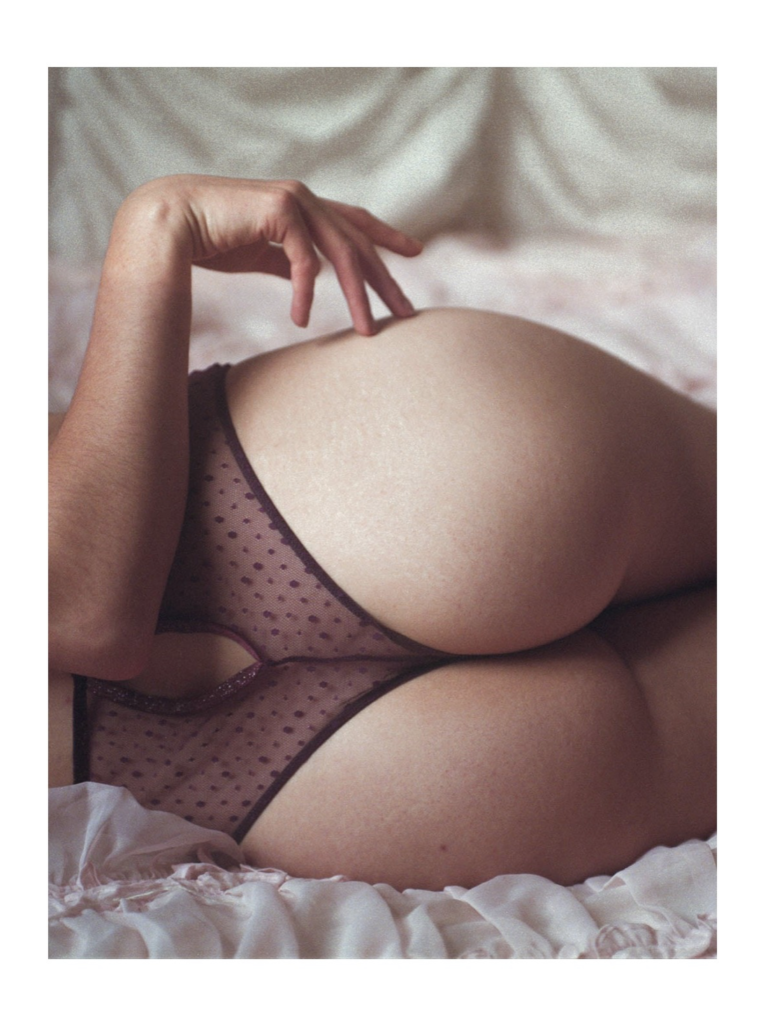 "House of Marlow was born from an eclectic mix of two different (and often dissociated) worlds: innocence and sensuality." – hell yeah! This poetic French brand creates dreamy lingerie with romantic, soft and bohemian inspiration. The creator, Billie Marlow, excels not only in lingerie making but storytelling as well: "From Gainsbourg's lyrics to Verlaine's texts, from the sweetness of Klimt's paintings to the raw nudity of Purienne's cliches and the aestheticism of Virgin Suicides, the designer's wish is to bring all these influences together in one poetic and sensual image to a simple message: let the softness be carnal, your provocation delicate and your sensuality passionate." Oui, s'il vous plaît! If you're looking for a lingerie that will ignite your senses – House of Marlow is there for you. A sense of luxury and decadence, but all with environment in mind.
Prices: Briefs starting at 45€, Bralettes starting at 55€
20. UNDERPROTECTION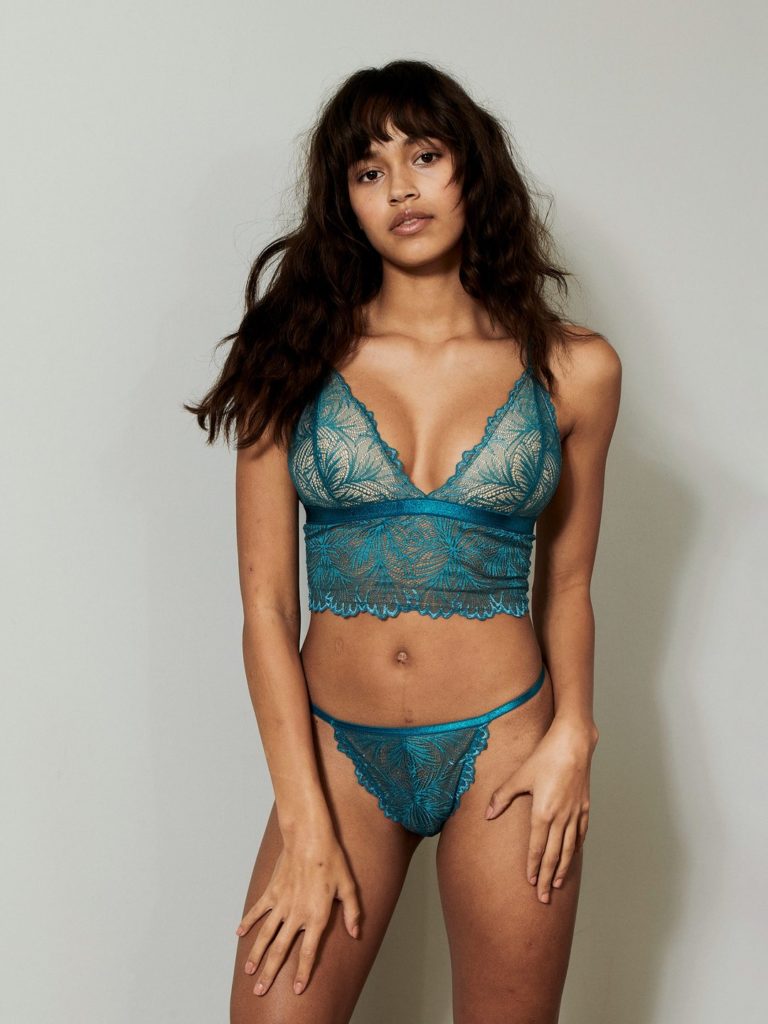 "We only use sustainable materials such as recycled polyester, recycled wool, lyocell and organic cotton. All our packaging, paper and polybags are either recycled or biodegradable. Most of our products are vegan approved, and if not, it is because it is recycled (wool) or a waste resource (milk). Fair working conditions and fair wages are human rights. Therefore, we only work with certified factories. We love women, of all kinds and sizes, and our goal is to make you feel as beautiful and comfortable as possible." – when I read that kind of introduction, I know they are my type of brand. In addition they happen to provide a wide range of amazing lingerie, loungewear and swimwear. I'm in love with their colorful bralettes – I can't decide which one to try out first: the mint, coral or lime.
Prices: Panties starting at 37,50€ (but they have great discounts now), Bras starting at 40€ (also good discounts now)
Hope you enjoyed the selection – let me know what you like the most!